If you have one or more missing teeth, it is vital that you look for replacements right away. When there are gaps in your smile, your remaining teeth will shift out of place in an attempt to fill the gap, causing issues with your bite. The Dentists at Northgate provide dental bridges in North Edmonton as an effective and natural-looking tooth restoration option. Read on to learn how you can benefit from dental bridges near you.
A dental bridge consists of a group of dental crowns connected to one another, made out of ceramic or porcelain. Anchoring itself with dental crowns placed over the two teeth adjacent to the gap, a dental bridge fills the space created by missing teeth to restore your smile and enhance your oral health. Whether you are missing one or many teeth, you can benefit from dental bridges in North Edmonton.
How Can Dental Bridges Benefit You?
The biggest benefit of getting a dental bridge is that it closes the space created by a missing tooth or teeth, filling it with a false tooth or pontic. In doing so, a dental bridge restores your ability to eat and speak while enhancing the appearance of your smile and boosting your confidence. Additionally, dental bridges prevent teeth from inappropriately shifting and save you from spending money in the long run on more extensive dental work.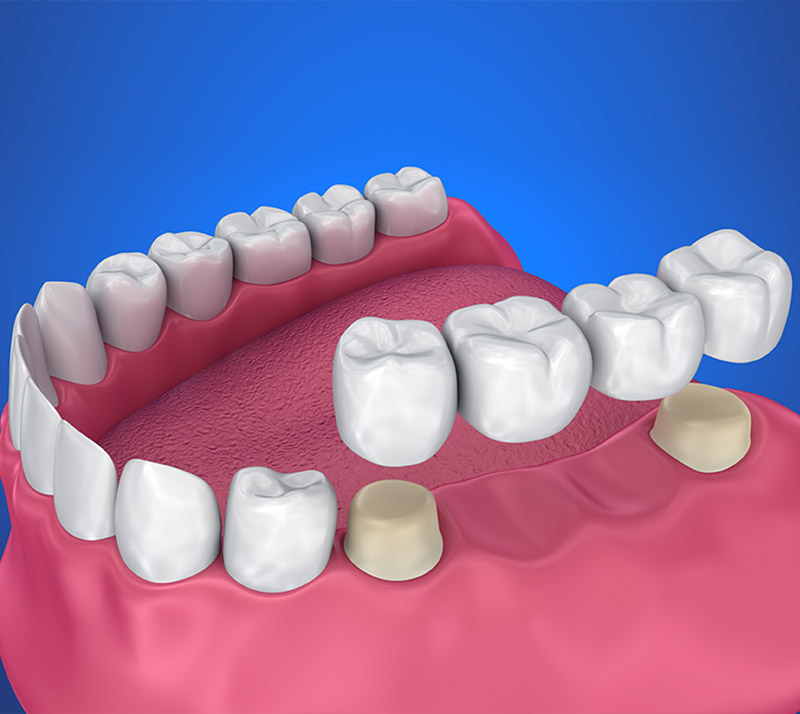 What is the Process for Receiving Dental Implants?
It will take two visits to The Dentists at Northgate to get your dental bridge completely placed. At your first visit, our dentist in North Edmonton will administer a local anesthetic to ensure that you do not feel any pain before preparing the teeth on either side of the gap for the dental crowns. Next, they will take impressions of the prepared teeth, which they will send to a dental laboratory where your custom bridge will be created. You will be given a temporary bridge to protect your teeth until your custom bridge is created.
When your custom bridge is ready, you will return to our clinic to have it placed and adjusted to fit perfectly in your bite.
Caring For Your Dental Bridge
Dental bridges are durable, and with the proper care, you can expect your restoration to last you several years. You must ensure that you clean your dental bridge correctly, using tools provided by our dentist near you to clean underneath and around your bridge. A dental floss threader and water jet may be beneficial.
As always, you will need to visit our dentist at least once every six months for a professional dental cleaning and exam. That way, our dentist can monitor your bridge as time goes on.
Considering Dental Bridges Near You?
If you have gaps in your smile and believe that you may benefit from a dental bridge, please do not hesitate to contact The Dentists at Northgate. We provide dental bridges in North Edmonton to restore patient smiles and protect their overall oral health.