Missing teeth can make seemingly simple daily activities such as chewing and speaking a challenge. Having gaps in your smile can also have a negative effect on your oral health, making you more susceptible to problems such as infections and jawbone deterioration. The Dentists at Northgate understand how challenging it can be to function with missing teeth, so we offer our patients dentures in North Edmonton.
There are two kinds of dentures available: complete and partial dentures. If you are missing most of your teeth, you may choose to remove the rest of your teeth to become a candidate for complete dentures. These can replace a full arch of lower or upper teeth and restore your smile to its original appearance and function.
If you have several missing teeth but still have most of your healthy, natural teeth in your mouth, then you may choose partial dentures as a solution. Partial dentures are made to fit around your natural teeth and fill the gaps in your smile, restoring its radiant appearance.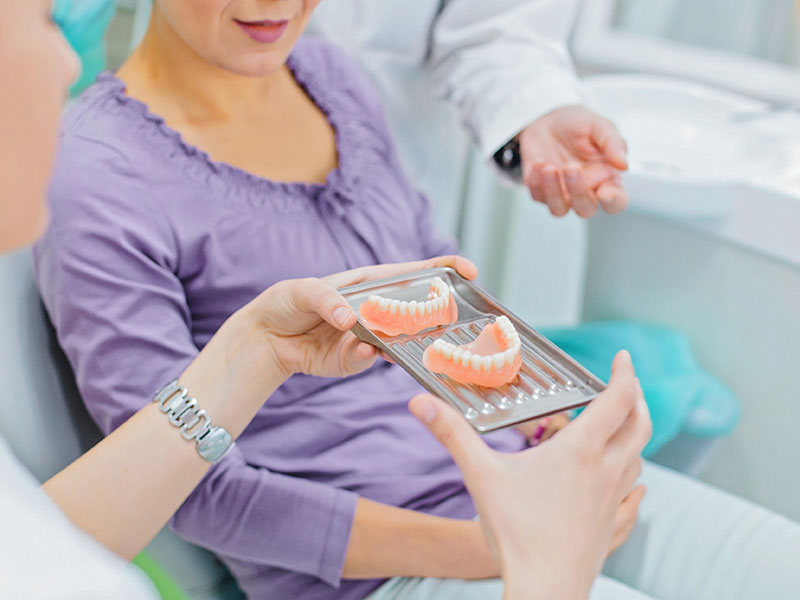 What Benefits Do Dentures Have to Offer?
Besides providing you with a brand-new smile and enhancing your confidence, dentures also provide:
Renewed speaking and eating abilities
Support for your facial structure
Cost-effective restoration option
It is important that you take care of your dentures so that they can last you for years to come. It is good to note that dentures are not as strong as your natural teeth and can break a lot more easily, so you must handle them with care. You should also ensure that you:
Remove your dentures before you sleep
Store your dentures safely when they are not in use
Rinse your dentures after each meal
Avoid sticky and hard foods
Considering Dentures Near You?
The Dentists at Northgate are proud to provide our patients with dentures in North Edmonton to renew their quality of life. Please do not hesitate to contact our team of dedicated dental professionals and book a consultation today.