Having missing teeth can lead to serious oral health issues, such as bone deterioration and a misaligned bite. Additionally, missing teeth can severely impact your quality of life, making it challenging to participate in activities such as eating and speaking. The Dentists at Northgate are happy to provide patients with dental implants in North Edmonton as an innovative and permanent way to replace missing teeth.
When Are Dental Implants Necessary?
People have missing teeth for many reasons. Whether you have missing teeth because of injury, infection, or decay, the best thing you can do to protect your oral health is to get them replaced. When you leave gaps in your smile, bacteria can accumulate and cause further trouble with your oral health. Dental implants are an excellent option for tooth replacement, but you must have a strong jawbone and healthy gums to move forward with this procedure.
What Are the Benefits of Dental Implants?
If you are an eligible candidate for dental implants, your dentist will likely recommend that you get them. Most dental professionals consider dental implants the best option for tooth replacement because they are the only replacement option that mimics both the appearance and function of natural teeth.
Here are some of the benefits that dental implants provide:
Improving your speaking and chewing abilities
Durable, long-lasting results
Enhancing the appearance of your smile
Preventing bone loss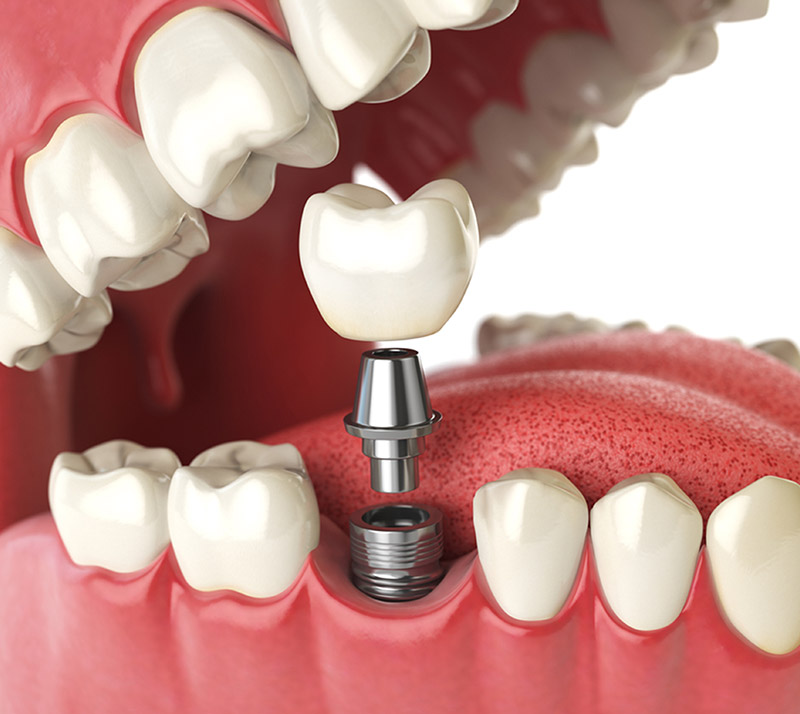 How Are Dental Implants Placed?
Dental implants come with three distinct parts: an implant post, a porcelain dental crown, and an abutment that connects these two pieces. The implant post is inserted into your jawbone surgically and replaces the tooth root, while the dental crown is attached to the abutment and works to replace the visible missing portion of your tooth.
Depending on your specific situation, the implant procedure can take several months. In most cases, it will take a few months for the implant post to integrate with the jawbone and heal effectively. Once the post has been accepted as a part of your anatomy, our dentist will place your permanent dental crown and complete the procedure.
Whether you have real or fake teeth, it is still important to maintain a good oral hygiene routine. Ensure that you:
Interested in Dental Implants Near You?
If you are missing teeth, speak to your dentist about dental implants in North Edmonton. We are proud to provide our patients with dental implants. Don't hesitate to contact our team to learn more about this innovative restorative dentistry procedure today.