Porcelain Veneers Near You
When you smile at yourself in the mirror, are you satisfied with what you see? If you are tired of having chips, cracks, and stains in your smile, then you may benefit from porcelain veneers near you. The Dentists at Northgate are happy to provide porcelain veneers in North Edmonton to transform our patients' smiles and boost their confidence.
What Are Porcelain Veneers?
Porcelain veneers are thin pieces of tooth-colored porcelain cemented to the front surfaces of teeth to mask minor cosmetic imperfections such as stains, chips, and cracks. They are a minimally invasive and effective way of enhancing your appearance and improving your self-esteem.
How Are Porcelain Veneers Placed?
You will need to visit The Dentists at Northgate twice to get porcelain veneers placed. Our dentist will clean your teeth before removing a small amount of tooth enamel to make space for your veneers at the first visit. Next, our dentist will create a mold of your teeth which they will send to a dental laboratory where your custom-designed veneers will be created. In the interim, you will be fitted with a set of temporary veneers.
At your second visit, our dentist will place your permanent, custom-made veneers over your teeth, shaping and polishing them until they blend in seamlessly with your smile, completely transforming your appearance and leaving you with a flawless grin.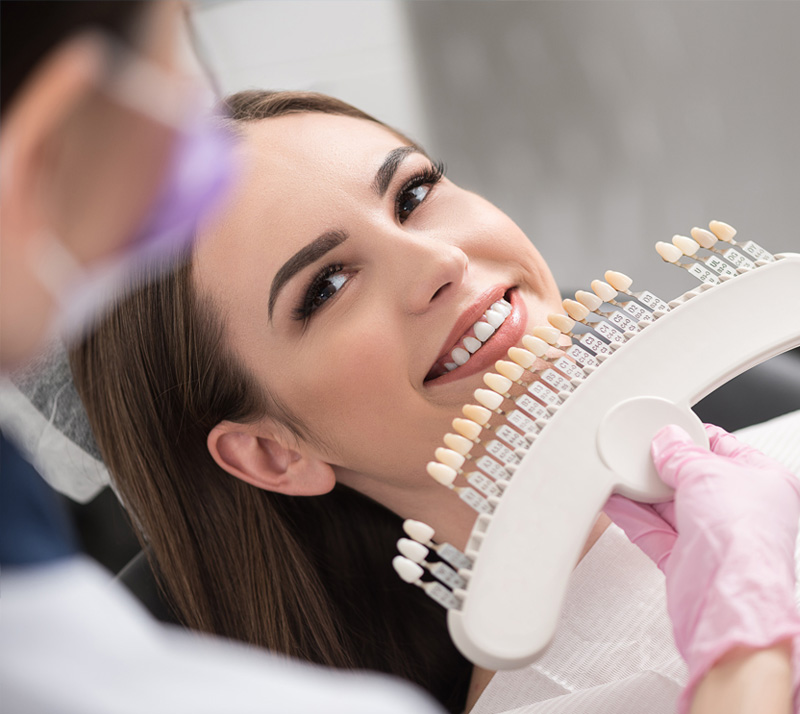 What Are The Benefits of Porcelain Veneers?
Porcelain veneers are popular cosmetic dentistry treatments used by celebrities and reality television stars everywhere. This is because of their ability to quickly and effectively mask imperfections in smiles and create a camera-ready appearance at all times. Some of the main benefits of porcelain veneers include:
Long-lasting and durable
Stain-resistant
Minimally-invasive
Natural-looking
Porcelain veneers can be used to correct various issues such as gapped, crooked, worn, cracked, stained, and chipped teeth. If you are dealing with any of these problems, you may be a good candidate for porcelain veneers in North Edmonton.
Interested in Porcelain Veneers Near You?
If you would like to learn more about porcelain veneers and how they can enhance your smile, please do not hesitate to reach out to The Dentists at Northgate. We are happy to provide our patients with porcelain veneers in North Edmonton. Please contact us to book your appointment today.